Treasure Hunter finds golden ticket to bag Barbour prize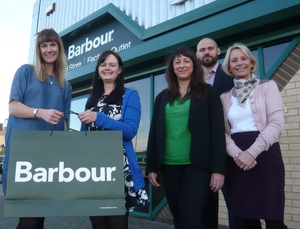 Left to right: Rebecca Cairney of Barbour, prize-winner Isabel Hunt of the University of Sunderland, Nicola Reid, senior IT recruitment consultant at Catalyst, Matthew Ord, senior account manager at NECC and Julie Griffiths of Atlas Cloud
Nov 4, 2014
A lucky treasure hunter will be stepping out in style this season after winning stylish clothing worth £500 from the North East's iconic lifestyle brand, Barbour, in this month's Great North East Digital Treasure Hunt.
Isabel Hunt, a programme administrator at the University of Sunderland was the first to solve a series of coded clues and find the winning golden ticket hidden in the grounds of the historic St Peter's Church in Monkwearmouth, Sunderland. She collected her prize – an outfit of her choice from Barbour's Autumn Winter 2014 collection – at the clothing brand's retail outlet in South Shields.
Isabel correctly solved a puzzle to reveal the secret location and then had to find a particular gravestone in the churchyard close to where the golden ticket was hidden.
She commented: "It was tricky, I was looking around the grounds of the church for a while but I was really pleased when I found the golden ticket and realised I had won. The prize is absolutely fantastic so I'm delighted."
Nicola Reid, Catalyst's senior IT recruitment consultant, added: "The Great North East Digital Treasure Hunt is a tech-enabled hide and seek trail that's really good fun for all involved. We're certainly enjoying running the competition. It's a good fit with our business – as one of the North East's leading recruitment agencies you could say we are all about finding treasure – in the form of talented people for our clients."
Organised by Catalyst Recruitment, the North East Chamber of Commerce and Atlas Cloud, the digital treasure hunt is a challenge to solve puzzles which reveal a secret location somewhere in the North East where a prize-winning golden ticket is cleverly hidden.
The competition is open to all NECC members and is running for 12 months through the Contact magazine and the fortnightly online Contact Bulletin. The initiative has been organised to coincide with the run up to the Chamber's 200th anniversary celebrations as well as Catalyst's 10th birthday in 2015.