Recruiters Catalyst launch world beating referral fee scheme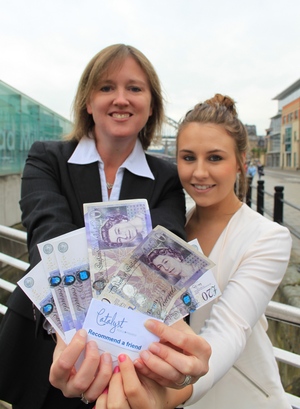 A thousand reasons to recommend a friend to Catalyst, left to right: Hilary Duffy and Stephanie Walker
Sep 29, 2014
Recommending a friend or colleague to North East-based recruitment consultancy Catalyst, could pay out up to £1,000 as a thank you if that friend gains a new job with one of the agency's clients. Visit: www.pluscatalyst.co.uk/recommend
With high demand in the job market for experienced and talented professionals, Catalyst has launched its market leading new referral scheme to encourage new candidates to sign up.
The scheme is open to anyone who recommends a new candidate to register with the agency who is then successfully placed with a client in a new role. Once on board with an employer, the friend who made the recommendation will be rewarded with a 'Thank You' payment worth 5% of the recruitment fee earned by the consultancy.
Catalyst recruits across the North East in every sector and is particularly strong in IT, digital and finance recruitment however the recommend a friend scheme applies to all types of jobs across every sector including administration, sales, engineering and quality. Jobs at all levels are included from entry level roles through to executive management positions and on a permanent, temporary, contract and interim basis.
Catalyst itself recently increased its team to nine with two new part-time additions: Hilary Duffy, digital marketing manager and Stephanie Walker, recruitment administrator (pictured) and plans to add a further three recruitment consultants in the next six months.
Hilary Duffy commented: "The very best candidates are in high demand in every sector we recruit within. We want to incentivise and reward people to use their networks to do their friends and themselves a favour by finding them a great new job. Our 'Recommend a Friend' scheme beats the referral fees offered by other larger, international recruiters. All people have to do is complete the Recommend a Friend form on our website and our recruitment consultants will do the rest."
People can register for the Catalyst recommend a friend scheme via the website: www.pluscatalyst.co.uk/recommend