Treasure Hunter finds golden ticket for double prize!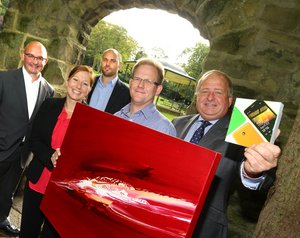 Left to right: Phil Richardson of Atlas Cloud, Victoria Anderson of Art Evolution, Matthew Ord of the NECC, prize winner Dave Shepherd and Ian Gillespie of Activ Technology
Sep 3, 2014
A lucky treasure hunter has won the double rollover prize in this month's Great North East Digital Treasure Hunt, after solving a series of coded clues to find the winning golden ticket hidden in Saltwell Park in Gateshead.
Dave Shepherd, general manager at the international gas testing facility run by oil and gas consultancy DNV GL in Chilton, County Durham collected his prizes of a painting by prominent local artist Dennis Woods kindly donated by sponsors Art Evolution as well as a Nokia Lumia 635 smartphone from Activ Technology.
Dave admitted to needing some help from his family to locate the winning ticket however, he commented: "I solved the online clues and used the co-ordinates to realise the ticket was hidden near the bandstand in Gateshead's Saltwell Park. Then I challenged my 12 year old son Thomas during the school holidays to see if he could find it. He followed the clues correctly in the park and was really surprised and pleased to find the ticket carefully hidden in a tree-hollow."
Organised by Catalyst Recruitment, the North East Chamber of Commerce and Atlas Cloud, the digital treasure hunt is a technology enabled challenge to solve puzzles which reveal a secret location somewhere in the North East where a prize-winning golden ticket is cleverly hidden.
The competition is open to all NECC members and is running for 12 months through the Contact magazine and the fortnightly online Contact Bulletin. The initiative has been organised to coincide with the run up to the Chamber's 200th anniversary celebrations next year as well as Catalyst's 10th birthday.
How to take part: To register for the Great North East Digital Treasure Hunt and receive the next clue visit: www.pluscatalyst.co.uk/treasurehunt